As one of the leading Scandinavian pianists, the award-winning pianist and composer Niklas Sivelöv has taken his career to new international heights with an extensive catalogue of recordings for such labels as BIS, Caprice, Dacapo, Naxos, Toccata Classics and AMC Classical, some of which have been awarded the Diapason d'or, CHOK and the Penguin Rosette. His concert career spans four continents, including venues such as the Leipzig Gewandhaus, the Barbican, Carnegie Hall, Kennedy Center, Tivoli Copenhagen and the Atheneum in Bucharest.
He has won critical acclaim and enchanted audiences for his artistic temperament, impeccable technique and spellbinding stage presence.
His wide-ranging concert repertoire covers Bach to Skryabin, Scandinavian composers and beyond, and includes approximately 50 piano concerti including four of his own. As a composer of note, his catalogue of works includes three symphonies, 4 Concertos for piano, 24 Preludes for piano and several chamber music pieces. Niklas Sivelöv is also a notable improviser, with several successful recordings and collaborations: the CD Improvisational 1 was a sensational success at The Independent Music Awards, where he was the first Scandinavian to win the prize for the best classical album and was given the People's Choice Award.
The leading orchestras with which Niklas Sivelöv has performed include the Stockholm Philharmonic, Zürich Tonhalle, Suisse Romande (Geneva) and Prague Radio Symphony under the baton of many distinguished conductors, among them Alan Gilbert, Esa-Pekka Salonen, Kristjan Järvi, Sakari Oramo, Mario Venzago Jukka-Pekka Saraste , Grzegorz Nowak, Janos Fürst and Leif Segerstam  The instrumentalists with whom he has performed include the Swedish clarinettist Martin Fröst, cellist Leonid Gorokhov, flautist Patrick Gallois and violinist Zakhar Bron.
Niklas Sivelöv grew up in Skellefteå in northern Sweden, where he began playing the organ as a six-year-old; his first compositions followed soon after. He played by ear until he was 14, when he began traditional piano instruction and learned to read music. He studied with, among others, Gabriel Amiras and Maria Curcio Diamond, students of the famed Heinrich Neuhaus and Artur Schnabel..
He lives in Malmö and is professor at the Royal Danish Music Academy in Copenhagen. His book on the art of piano-playing, distilled from a lifetime of performance and study, will be published in October. He was recently knighted by the Queen of Denmark as Knight of the Order of Dannebrog
.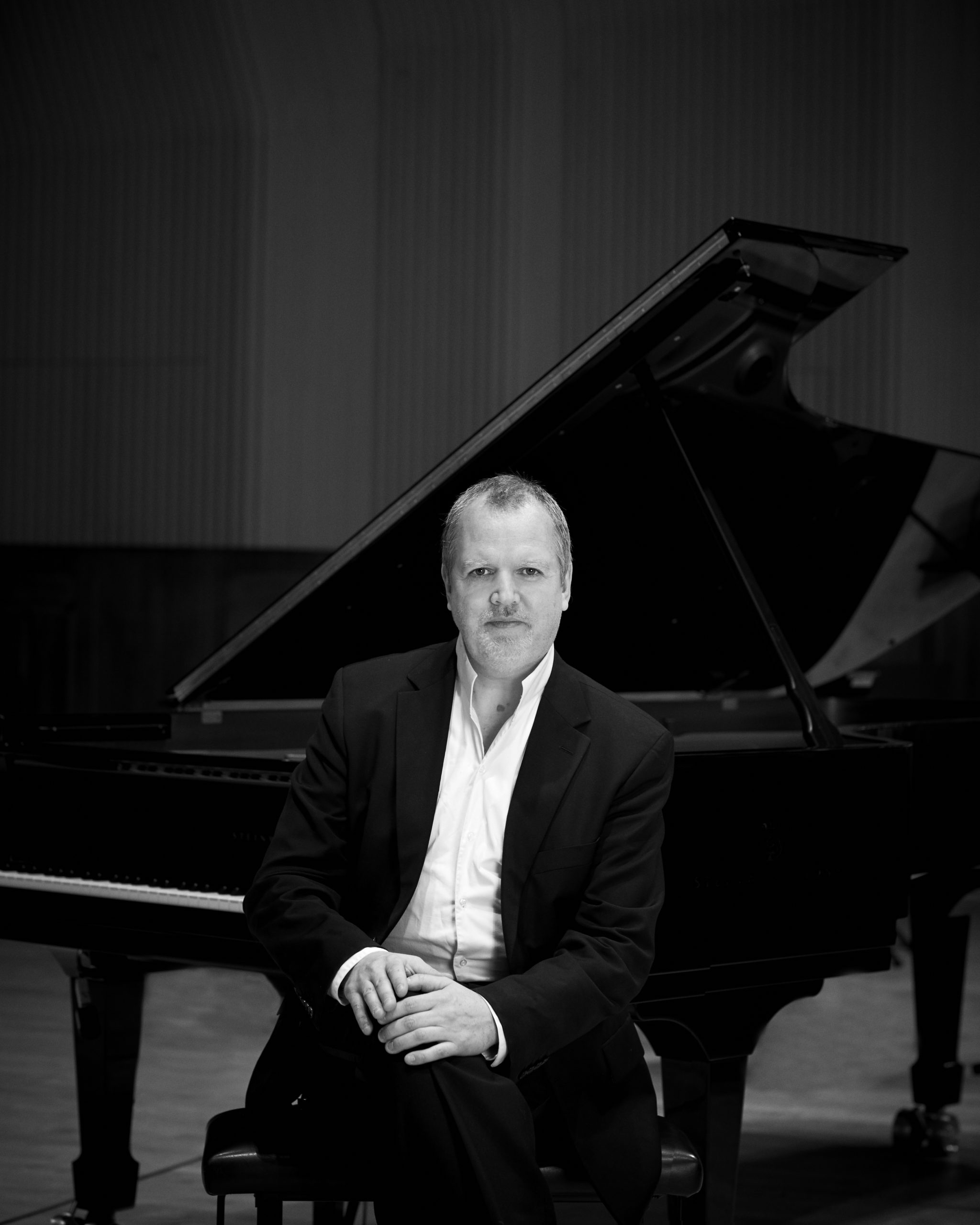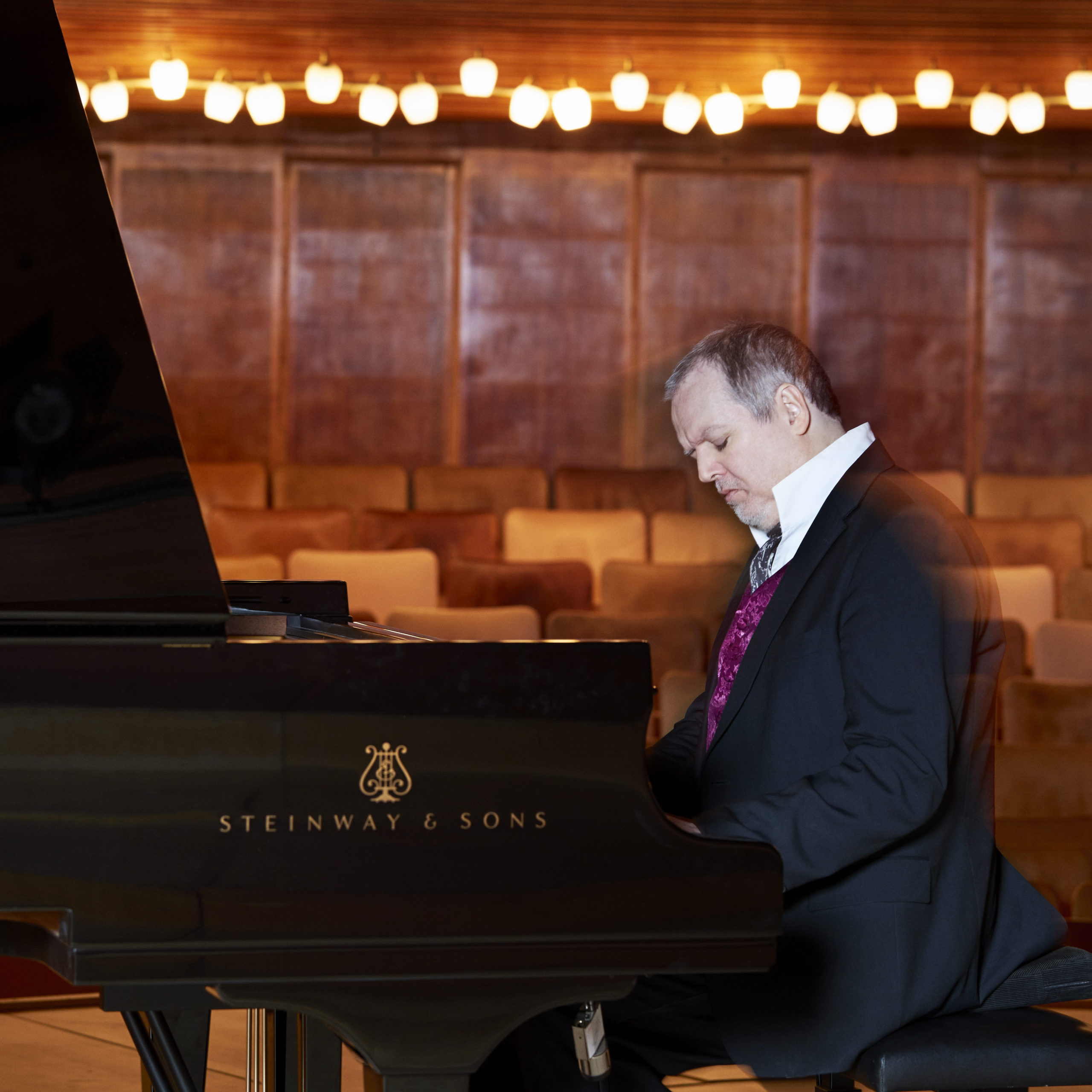 Gewandthaus in Leipzig 2018 . The German premiere of "the Unchanging Sea" by Michael Gordon. The MDR Orchestra/Kristjan Järvi
"The melodies in the piano builts up to a turbulent culmination using all the strength of the instrument. The strings gently lead the initial piano chords back to familiar ground, helping Sivelöv to return to a safe harbour."
 Paul Schuler
Royal Philarmonic Orchestra in Stockholm/Sakari Oramo-2016
"For the performance of Felix Mendelssohn-Bartholdy's Piano  Concerto   No. 1 (1831), Niklas Sivelöv took the stage. The work, written by a newly in love Mendelssohn, is full of energy and joy, and the orchestra and the soloist  performed it intensively but clearly and precisely.  Sivelöv made a convincing display of outmost virtuosity and lightness combined.
Bach And Beethoven
Helsingør Dagblad, 9 November 2015
The keyboard of Sthens Church fine Steinway piano was this afternoon in the hands of one of the greatest pianists in Denmark – Niklas Sivelöv, professor at the Royal Danish Academy of Music. His programme was awe-inspiring; 2 of Beethoven's last sonatas opus 109 and 111, and Bach's Partitas 2 and 3.
One gets the impression that Sivelöv can do everything on a piano. His technique is formidable, the fast tempi are perhaps a notch too fast, but it never affects his secure playing. His touch is firm, so each note stands chiselled, but he can also catch the soft and expressive in a movement. He is a man of contrasts.
The Beethoven sonatas are monumental pieces, they are the capstones of his sonata production, and can be seen as a farewell with a genre, which he has made an impact more than any other composer. Niklas Sivelöv gave the sonatas life and glow with his personal interpretation of the music.
Bach's partitas belong in another world. They are not less demanding than Beethoven, but they require a different approach. Instead of feelings it is the pulse of the music which dominates. ¨
It was a wionderful concert with music by the two great B's, Bach and Beethoven.
Ole Josephsen
Stenhammar – Tivoli Concert Hall Politiken, 15 June 2014
THE SWEDE SET THE PIANO ON FIRE!
My goodness what a pianist the Royal Danish Concervatory piano professor is. Forget about dusty professor fingers. This Swede is an artist with capital A! That Sivelöv this evening in Tivoli also showed us his technical capacity and his romantic-virtuoso sense of style with warmth, strength and at the same time soft and fascinating pianistic way of extracting sound from the Steinway piano, made the experience of hearing the piano part in Wilhelm Stenhammar's piano concert to something, which in itself had deserved top marks. Thomas Michelsen
Stenhammar – Tivoli Concert Hall
Berlingske, 15 June 2014
…"One says Stenhammar was a piano virtuoso of international class, but he did not care to travel and live in a suitcase. He settled in Gothenburg, transformed the city orchestra to an elite ensemble and stayed there until his death in 1927.
Is that why nobody knows his ambitious concertos for piano and orchestra? Niklas fortunately does. He has even recorded them with the orchestra in Malmö a few years ago. And when one has heard him play number two on a Thursday in Tivoli, one does not easily forget it. Sivelöv
is Swedish professor at the Royal Danish Music Concervatory and is an artist of Stenhammar's kind.
He is partly equally virtuoso: Quiet passages are heavenly poetic in his hands, fast passages slick as eels, powerful sections quite Russian and without filter.
He is partly equally creative. When he thanked the audience for their even, rhytmic applause
it was with an encore of his own. He begins with five seconds romance á la Schumann and continues with improvisations á la Keith Jarrett. Søren Schauser
Drama
Helsingborgs Dagblad, 25 March 2013
(…) Drama was also offered in what was really, although not nominally, the central piece of the evening: the revival of Niklas Sivelöv's piano concerto. This piece is a volcanicly rushing collection of artistic outbursts – at one point virtuoso verging on Rachmaninov, at the next point grandiose like Copland, at the next again swinging hard like Kapustin and all the time Sivelöv-like, turning completely around inventively. As soloist Sivelöv stormed the keys in veritable cascades in a part that, (including a lot of improvisations), unaccompanied would be a piece in its own right. The ample and extremely responsive work of the orchestra acted like beautiful marble to this musical monumental building. Also the extra, the first movement of Beethoven's 30th Piano Sonata, had some small Sivelöv signatures, kindly modernized.(…) By: Fredrik Fischer
Suggestive Despite The Burning Piano
Folkbladet, 24 November 2012
Fredrik Högberg's "Ice Concerto" is written for the World-class pianist Niklas Sivelöv, native of Skellefteå, music professor in Copenhagen and one of the few Swedes who has received the prestigious American prize "Independent Music Awards" in the category "Classical album of the year". Högberg and Sivelöv work very well together – they seem to share the same spirit and they also have the same kind of insubordinate playfulness. With an impressing fearlessness Sivelöv finds his way through Högberg's musical World with an expression and presence that is felt here and now; Cocreator and at the same time a technicallly brilliant soloist.