Great review of the Court House recital!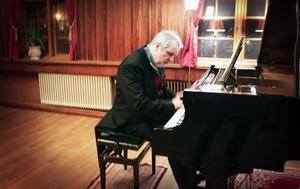 Jubilee giant celebrates 250 years – celebrated in the Court House with one of Sweden's foremost pianists
The Court House in Nyland afforded an enjoyable visit when Niklas Sivelöv, one of the Nordic region's foremost concert pianists, gave a concert on Tuesday evening.
Niklas Sivelöv played, among others, Bach, Beethoven – and Högberg.
The program was part of the Beethoven year celebrating the 250th anniversary of the great composer's birth.
Niklas Sivelöv, who is internationally successful, is not completely unknown to the Court House. He has been a frequent guest there for the 20 years that Fredrik Högberg has managed the house.
Fredrik has also written a piano concerto for Niklas, an adventure that for Fredrik's part ended with a police report. Niklas, however, had nothing to do with it – the idea of throwing burning pianos from Hammars Bridge was entirely Fredrik's idea.
We heard a small suite for piano by Fredrik Högberg, entitled 'Erotikmusik', apparently taken from Ovid, with a young man's – the piece dates from 1994 – not particularly unusual fondness for pretentious gestures.
Here already there are elements that became typical of Fredrik's more mature music, not least elements of popular music; you can also sense a strong attempt to form his own personal voice.
Performances of 'Erotic music' have long been very unlucky, but this time all went perfectly, without any mishaps whatsoever.
But the main point of the evening was, as I said, Beethoven. The program was very clearly laid out, beginning with the first sonata of the great Ludwig van, and ending with his last, 'perhaps the greatest sonata ever written', according to Sivelöv.
It's easy to agree. If the first sonata, with its powerful utterances (although it also contains playful elements), felt like pretty typical Beethoven, the last, in C minor, was something very wondrous and different, with narrative themes that work so profoundly as only great music can.
This was certainly also thanks to the pianist. Niklas Sivelöv has an impressively wide dynamic range; he can attack powerful tatements without turning the grand piano into a purely percussion instrument, and with smooth and harmonious transitions he caresses the most sensitive nuances with the keys.
With concentration, dedication, courage and not least endurance – so important at the grand piano – and a natural performance style, which is not all that common among concert pianists, he really makes a case for the designation 'world-class pianist'.
Other music on the program was a dance Partita by J. S. Bach, more court than church, and short, colourful pieces by Skryabin, a search for 'sounds that do not exist', somewhere between Chopin and Thelonious Monk with Wagner and Schoenberg along the way.
A fantastic concert with an outstanding pianist. Two encores served to demonstrate the audience's appreciation.
Gregor Flakierski